Stacey Worland Hurley, Owner
Stacey is the owner of Stacey Worland Color Salon. The Salon specializes in hair color, cutting and make-up artistry and is located in trendy Northwest Portland. Stacey has been there for her clients since she opened the Salon in April, 1999.
Stacey has worked in this industry since 1995. After graduating from Oregon State University with a communications degree she decided to follow her passion and pursue a career in hair design. Stacey went on to study at the Vidal Sassoon Academy and became a member of Haircolor USA. She also has received specialized education from Oscar Blandi, stylist to the stars and owner of Oscar Blandi Salon on Upper Madison Avenue in New York City.
Outside the salon, Stacey has been married to her husband Jason since 1999. Together they are raising their three active children. She is an avid runner, skier, and loves travel to sunny places around the world.
Heather Schoch
Heather comes to Stacey Worland Color Salon with close to twenty years of experience. She specializes in hair color and artistic cuts, and brings talent and a kind spirit to the salon! She has extensive training: After apprenticing at Hickox, she went on to own her own salon. Additionally, she has traveled to New York doing platform work for Intercoiffure. Oregon-born and raised, she is as green as they come! Heather is a busy mom to four children, and loves to travel, visit the beach, snow ski, and run!
Chelsea Corrado Coussens
I attended school at Bella Institute of Cosmetology and am excited to be a part of this talented team! After graduating with a sports marketing degree from Gonzaga University, I worked for three years at a local sports marketing agency.  I have always been passionate about hair and cosmetics, starting from a young age when I would dress up my three younger sisters.  I couldn't be happier with my career change and am thrilled to be in this fabulous industry.
Melanie Odom
A native Oregonian and recent Bella Institute graduate, Odom also holds a BA in communications from Southern Oregon University. With a passion for hair and strong business skills Odom is a well-rounded addition to the Stacey Worland Color Salon. Odom tailors her approach to each client, whether it be a day of pampering or quick cut and color, she makes it her goal to see that each client is happy with their salon experience and leaves educated on the process, product and technical skills to achieve their hair goals.
In addition to her career in hair design Odom enjoys the culinary world, whether it be experiencing Oregon's wine country, foodie scene or experimenting in her own kitchen.  She has always enjoyed sharing food and drink with friends, but most dear to her heart is the time she spends with her family.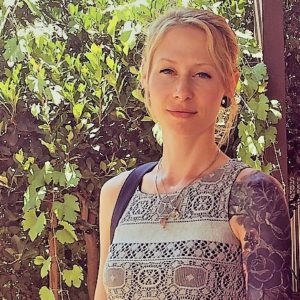 Alexis McFate
Alexis McFate has been active in the cosmetology industry since 2006 receiving her training from Paul Mitchell the School in southern California. Alexis is a dedicated cruelty free stylist, still using Paul Mitchell products and color today.
Alexis' background in art lends itself to her ability to create styles that express individuality ranging from the subtle to dramatic. Painting and sculpting have developed her eye for how color and layers will fall within a style. Drawing provides fine motor control for detailing and precision. Alexis specializes in working with colors within the natural hair color spectrum and introducing a "heightened reality" effect by enhancing these shades in a tailored to fit way for each individual. Her hair cutting method is based on Vidal Sassoon precision techniques combined with an adaptive quality for complete customization. Alexis is very experienced with fine hair texture, short hairstyling, and long layered styles..
Outside of the salon Alexis enjoys drinking coffee and reading a book, creating artwork, a walk or run on a tree lined trail, eating or cooking wholesome plant based food, spending time with her teenage son and meditation.
Connect with Alexis on Instagram:
Hair portfolio @mcfate.hair
Art and meditation @alexismcfate